Junior Reporter Sammi is a new edition to Lottie family! Sammi is a writer for the Branksea School News, covering all the awesome Sports Day activities. He's outfitted with all the essentials: a denim blue bag, pen and a yellow notepad (not pictured).
The miniature newspaper Sammi comes with features artwork done by real life Lottie fans! They take their tagline "Inspired by Real Kids" pretty seriously! Can you imagine how cool it would be to know your picture was featured in a real doll prop?
Sammi has dark brown eyes. His dark brown hair looks a little longer than Finn's. It's styled differently, too. (Finn has a side part style.) There's more texture to it, as well, though not as much as we saw with Mia. I think Finn's eyes are the best feature of his face. They 'pop' and look especially great with his thick brows.
As expected with a Lottie doll, Finn wears a well designed outfit full of separates! His shirt is grey with a cool headphone graphic on the front. Over that, he wears a cute yellow vest, which could easily be used on other Lottie dolls and with other Lottie fashions! The look is completed with jeans and red sneakers. He also has a hat, which, honestly, is the one piece that I'm not over the moon about. I don't think it does much for his look. (You can see it in the video review.) I prefer seeing Sammi's full head of hair!
Inspired by real kids ideas, the Astro Adventures outfit is one of my favorites from the company. Who wouldn't want a cool astronaut outfit for their dolls? Check out how cool Sammi looks in this four piece outfit (body suit, boots, under helmet piece, helmet)! The actual helmet comes in two pieces that snap together. It's sturdy, but be careful with it as you put it on and take it off of your dolls. This outfit fits all Lottie dolls, boys and girls!
Watch the video review below!
If you're new to the line, be sure to check out my past Lottie reviews. This will be the last one for a while. We may bring one back for review closer to the holiday season! You can buy your own Sammi online or at your local mom and pop store. Be sure to 'like' them on FaceBook for instant updates on releases and competitions. What do you think of new friend Sammi or the super cool Astro Adventure outfit? Share your thoughts below!
The other day, I stumbled upon a doll review on YouTube for SmartGurlz: the World's First Coding Robot for Girls. Invented by a mom, Sharmi, who was frustrated with the toys available for her daughter, Nina, SmartGurlz are "friendly self-balancing robots and action dolls that engage and encourage girls to learn to code. Connected via smart phone or tablet, SmartGurlz allows girls 6 and up to immerse themselves in Science, Technology, Engineering and Math (STEM)." They are currently available online via the SmartGurlz website.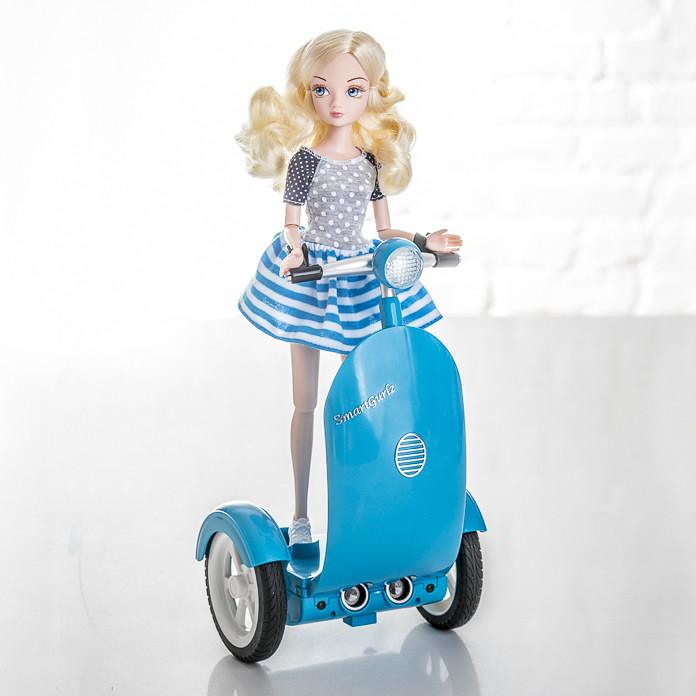 There are two elements to SmartGurlz. First, you have the STEM aspect of the line. The real star of this product is Siggy the Robot. Siggy is a segway, a two-wheeled, self-balancing scooter. You may have seen them being used by mall cops or tourists taking segway tours in major cities.
Siggy can be controlled via an app, available for Apple and Android devices called SugarCoded. Using the app, you can make your Siggy "dance, do tricks, drive in circles and navigate over surfaces inside and out." Siggy has lights, as well. It's scaled for most 11″ dolls and can hold about 6 ounces of weight.
The second aspect of this line is doll that comes with Siggy. Eagle eye readers, upon seeing the dolls, will know exactly what caught my interest. The dolls are identical to Chinese Fashion Doll Kurhn! Each Siggy comes with a different rider: Jen, Jun, Zara, Maria and Emma. Each doll has a bio and unique interests. It's clear to me that they made a deal with the people behind Kurhn when they were working on SmartGurlz, because their faces and articulated bodies look nearly identical to the Kurhn's that are being released currently. While I like all the dolls, my favorites are Jen, Maria and Emma. Zara is interesting, as I've never seen a black Kurhn doll before.
Jun looks identical to my Anniversary dolls. Jen seems pretty basic, too, but she has adorable freckles, which I love! While the dolls seem like a bit of an afterthought when you look at the marketing of SmartGurlz, they are definitely what caught my eye when looking into the line. Kurhn's are one of my favorite doll lines. (They're so pretty!) Inside the free app, you'll find an e-book that will give you a more in-depth look at the doll of your choice.
SmartGurlz are available to buy directly from the website. Zara is a pre-order, which should ship in October. The rest of the girls look like they're ready to ship! They are currently on sale for $79.99 (regular price $99.99).
What do you think of SmartGurlz? Let us know in the comment area!